Know of any resources that can help seniors save? Do you have a blog that's dedicated to resources for seniors? Have you discovered a tip that can help a senior in day-to-day living? Contact me and I'll add them to this page.
Amazon Echo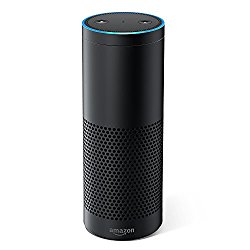 I love my Amazon Echo. "Alexa" sits in the corner of my living room just waiting to please. My husband and I enjoy listening to the free music offered to Amazon Prime members as we lounge around in the evening. We've discovered several new artists whom we've added to our favorite's list.
I ask Alexa for a weather report every morning. My son has his lights and thermostat programmed to work through the Echo. The 21st-century voice-activated conveniences were unimaginable when we were kids – unless we were watching The Jetsons, that is.
It occurred to me that for a home-bound or disabled senior, Alexa could be a God-send. I also found this recent article that explains the many ways the Amazon Echo can benefit those with dementia:
Instantly answers questions, like "what day is it?" or "what time is it?" — it's a machine, so it will never get annoyed or frustrated!
Plays music and read audiobooks and the news — no need to fuss with complicated controls
Tells fun jokes and riddles
Looks up information about anything — like, "what's playing on TV tonight?"
Reports traffic and weather
For seniors on a budget who don't care about the music quality and just want the function, there's also the cheaper option: the Echo Dot.
Links to senior resources:
AARP
Administration on Aging